Complete Quality Eye Care For Your Entire Family
At Eye Trends we provide exceptional eye care, including routine eye exams, and advanced treatment and optometric care for your vision problems. Our eye care staff is committed to ensuring unhurried, thoughtful and personalized care from the minute you call us or walk in our doors. Whether you are looking for eye glasses, contact lenses or designer frames, you will find a full selection and comprehensive eye care services at Eye Trends.
As part of the Vision Trends affiliate family of eye glasses and contact lens retailers, Eye Trends brings you exceptional customer service, a fantastic selection of eyeglasses and contact lenses, kids' eyeglasses and contacts to fit your needs and your lifestyle. All of our six convenient locations are equipped with on-site laboratories, so most single vision prescriptions can be ready in an hour or less. We also offer a variety of different types of lenses for your frames, from traditional single vision and bifocals to high definition progressives, and stock thousands of contact lenses so you don't have to wait to receive them.
Eye Trends has been servicing the eye care needs of our patients in the greater Houston, Texas area for over 30 years. Our eye doctors' offices serve the neighborhoods of Woodlands, Spring, Conroe, Kingwood, Greenspoint, and Kirkwood. At Eye Trends we always have at least one eye doctor in the office, allowing all locations to offer eye exams and treatment of eye diseases and dry eyes on the spot. With this type of convenience, as well as a trained and knowledgeable staff to help you every step of the way, it's no wonder Eye Trends is the top choice for so many looking for custom eyewear.
Our Clients Say It Best...
I am looking forward to seeing the new offices when they are complete. I don't think you can improve on Dr. Hoang. She is absolutely marvelous - knowledgeable, kind, and communicative. I will be back so long as she is there to see me....
"Seeing Is Vital to the Quality of Your Life"
Eyes are important indicators of overall health, and comprehensive eye care goes beyond a prescription for glasses or contact lenses. At Eye Trends, we take the time to get to know you, your eye care history, and your vision needs. Our optometrists provide the expert care, advice, options, and follow up you need whether you are a new patient or an existing one.
Focus On Technology
When you go to visit your eye doctor, you want to know that the optometry office has the most up to date and advanced technology to diagnose eye disease, and screen for vision problems. At Eye Trends we use the most advanced technology in all of of our eye exams and eye care services. Read about the different technologies we use during your complete eye exam.
Optomap Laser Retinal Scan
Eye Trends is extremely proud to introduce the new Optomap Laser Retinal Scan as an integral part of your eye examination. A retinal scan is important as it can lead to early detection of common diseases, such as glaucoma, diabetes, macular degeneration, and even cancer. The optos retinal exam is fast, pain-free, and may not require dilation drops.
If you have diabetes, don't delay - have your eyes checked every year!
During the beginning stages of the disease, there may be no noticeable symptoms, so it's important to have your eyes checked at least once a year, if you have diabetes. Call your Eye Trends eye doctor today!
Do You Have Near Vision Loss? You Could Have Presbyopia
If you are noticing a loss of near vision, then you probably have presbyopia. Maybe you want to enjoy the advantages of contacts, but also want to be able to ditch your reading glasses when reading or writing? Multifocal contact lenses may be exactly what you are looking for!
Multifocal Contact Lenses: The Next Solution
Multifocal contact lenses can be just what you need to help with presbyopia. They come in many different types and designs, depending on your needs and preferences. They are available in both soft and rigid gas permeable lens materials.
Q&A with Dr. Quelly
Dr. Sarah Quelly Answers Your Eyecare Questions
What are cataracts and how do they affect my vision?
A cataract is a gradual clouding of the crystalline lens, located inside the eye, causing decreased vision. Cataracts most commonly occur with aging, and are a normal part of the aging process. Other causes of cataract development include ocular trauma/surgery, radiation, smoking, systemic disease (metabolic and genetic conditions), and certain medications (particularly corticosteroids).
Symptoms of cataract vision loss depend on the type, location, and severity of the cataract. Cataracts may cause gradual blurry vision, halos around lights, poor night vision, prescription changes, and glare symptoms. A cataract is treated with outpatient surgery, in which the crystalline lens is removed and replaced with a clear lens implant. Surgery is typically done with local anesthesia, with minimal or no complications. Nearly all patients achieve improved vision and often do not require glasses post surgery.
Cataract surgery is one of the safest and most common surgeries performed in the United States. Your optometrist will evaluate your eyes for cataracts at each comprehensive eye exam. Please let your optometrist know if you experience any of the above symptoms.
4 Reasons You Should Have Annual Eye Exams at Eye Trends
We can diagnose and treat eye diseases (and sometimes other systemic conditions)

We can help you see your best by correcting your visual acuity with glasses or contact lenses.

We will update your prescription for glasses or contact lenses

We use the latest eye care technology to diagnose and treat eye alignment or structural issues that can affect learning and vision

.
We appreciate any positive feedback about your visit.
Had an issue?
We are here to help.
Call us first, so we can make it right.
Eye Trends Woodlands, P.A
402 Sawdust Rd
The Woodlands, TX, 77380
Tel: 281-363-2020 Request Appointment Online
Eye Trends Louetta, P.A.
4710 Louetta Road
Spring, TX, 77388
Tel: 281-350-2020
Request Appointment Online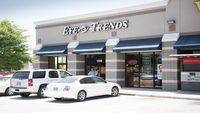 Eye Trends Conroe, P.A.
1329 W Davis St
Conroe, TX, 77304
Tel: 936-441-3939
Request Appointment Online
Eye Trends Greenspoint, P.A.
127 Greens Road
Houston, TX, 77060
Tel: 281-876-2020
Request Appointment Online
Eye Trends Kingwood, PA.
4333 Kingwood Drive
Kingwood, TX, 77339
Tel: 281-360-1006
Request Appointment Online
Eye Trends Kirkwood, P.A.
11805 Westheimer Rd Ste 300
Houston, TX, 77077
Tel: 281-496-3937
Request Appointment Online